BasicBuilder Kit
$149.95
Build a distance-sensing robot motorcycle. The Basic Builder is the best way to start playing with robots. This kit includes two spin modules so you can create simple robot critters that scoot and drive. Control your creation with an infrared distance sensor!
AdvancedBuilder Kit
$399.95
Go beyond the Basic Builder kit and unlock the creative possibilities. With the included bluetooth module you can build your own robot car, interactive crane, sound responsive robot, and so much more! The Advanced Builder Kit is the ultimate MOSS building experience.
MOSS Pre-Orders are charged at the time the order is placed. We expect to ship MOSS Pre-Orders in April, 2014. We will notify you if anything changes during the production process. If pre-orders aren't your thing,
sign up for our email newsletter
to find out when MOSS is available for retail.
MOSS Robot Construction System
Build your own robots with MOSS, the intuitive, fun, kinematic robot construction system. No coding required, no tangled wires, oodles of configurations!
Be among the first to start playing and pre-order today!
FEATURED MOSS CREATIONS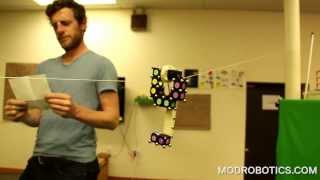 MOSS String Crawler
Card Shuffler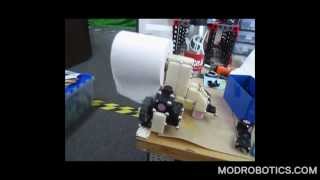 TP Dispenser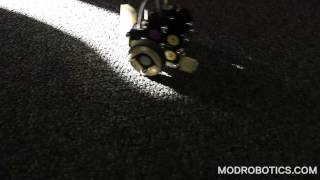 Photo Phil
MOBILE APPS
MOSS Control

is a two-way remote control app. It has eight sliders; one for each face on the Bluetooth MOSS module. Set some to output and remote control your robot! Set some to input and watch your robot's sensor values change in real time on your mobile device.

Launching February 2014 for iOS and Android.

MOSS Sketch

lets your robot draw! Select a couple of your MOSS robot's sensors to control the drawing cursor on your mobile device, and watch your robot draw in interesting new ways. You could replicate an Etch-a-Sketch® with two Knob Modules, or use Distance Modules and watch your robot draw as it navigates around the kitchen.

Launching February 2014 for iOS and Android.

MOSS Log

is for tracking and graphing data that your MOSS robot collects. Record and export data from MOSS sensors and analyze them later in a math or spreadsheet app. Log is great for fine tuning your robot or for using MOSS as an environmental sensor.Log is great for fine tuning your robot or for using MOSS as an environmental sensor.

Launching February 2014 for iOS and Android.

MOSS Dashboard

contains a bunch of mobile control screens that you can use to control your robot. Drag and drop controls for MOSS and build custom dashboards for your creations. Create intuitive custom robot dashboards by choosing which input controls and sensor displays best fit your robot! Built a 2WD diff drive robot? Try a joystick. Built a robot with rack and pinion steering? Try a steering wheel or use your mobile device's tilt sensor.

Launching February 2014 for iOS and Android.
F.A.Q.
Will the mobile apps be released for iOS? For Android?
Yes. We release all of our apps on both platforms. Some might make it out on one platform a little sooner than the other, but we develop for both in tandem.
What about desktop software?
If the campaign hits its third stretch goal of $564k, we'll be fast tracking the launch of two apps for programming MOSS robots: MOSS Flash and MOSS Scratch. Eric wrote a blog post with details:
http://www.modrobotics.com/blog/…
Why does MOSS Control have eight sliders? There are only six faces on a cube.
You're right, cubes have six faces. The MOSS Bluetooth Module is a double-length cube, or a 2x1x1 unit, and those have ten faces. One is taken up by the Bluetooth-specific face and status LED, another is taken up by a power face, and that leaves 8 data faces on the module. There's one read/write slider for each of these faces.
What ages are MOSS appropriate for?
MOSS is labeled for 8 years old and up.
How do I program my MOSS robot?
Good question. When you snap MOSS modules together, you're not only building the physical body of the robot, but you're also building its behavior. Connecting sensors to actuators in novel ways will equip your robot with interesting reactive behaviors that can appear surprisingly intentional.
If you really want to write computer programs for your MOSS creation, you'll be able to do that too. Details on programming here: http://www.modrobotics.com/blog/…
Can I buy the custom parts in the Shogun Tank kit (like the Shooty module) individually or in another kit?
Nope.
What's in the Bluetooth Expansion Pack?
A MOSS Bluetooth module and some steel spheres.
What's in the Light Sensor Expansion Pack?
A MOSS Light Sensor module, Knob module, Long Flex Connector, steel spheres, and a Support Brace.